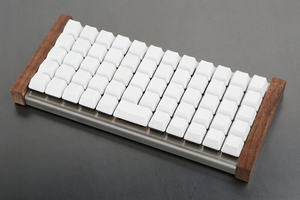 This is a set of blank Matias keycaps made of white ABS plastic. The set provided is the full set of keys associated with the Preonic Keyboard. There are enough keycaps in the set that you can make up the Grid layout OR the MIT layout. Keys provided are:
R4: 12 1x1
R3: 12 1x1
R2: 10 1x1, 2 1x1 Blind
R1: 24 1x1, 1 1x2
Note: this keycap set does not include stabilizers or hooks, and they are not necessary for this layout. This is a set of keycaps only. Preonic PCB, Switches, Preonic Classic Top and sides also not included.